ACCOMMODATION :
We can organize your accommodation in Sal. Depending on your wishes and budget, we will offer quality accommodation in the following options:
Hotel 4/5 *
Hotel 2/3 *
Apartment in private residence with swimming pool
Apartment
Guest House
TRANSPORT :
We offer transfers from Sal airport to your hotel, at any time of day or night.
We also bring you from your hotel to the Kitebeach spot, or to an other spot on the island.
RENTALS :
We work with different car rental agencies, pick-up, quad, etc.
We also offer bike rental in our kite club, the best way to discover the island of Sal by strolling.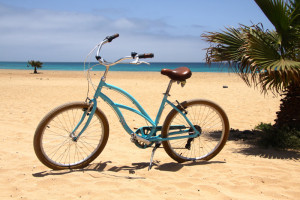 FLIGHTS :
TAP company flies every day from all major European cities to Sal. It's a night flight that arrives in Sal at midnight and leaves Sal at 1:00am in the morning. There is a stopover with change of plane in Lisbon (plan about 1 hour between the two flights to have time to change planes).
During winter, many charter airlines offer direct low-cost flights from European capitals to Sal:
Arkefly (Amsterdam)
TUIfly (Basel-Mulhouse, Germany, Brussels, Paris)
Neos (Italy)
Brussels airline (Brussels)
XL Airways, Transavia, Vueling, (Paris)